The word "scavenge" can conjure up images of crows pecking at roadkill…or mumbling souls, food scraps hanging fore and aft, waist deep in dumpsters. Those realities aside, here, "scavenge" means to collect useful material by searching. This can be for philanthropical reasons, true ecological building, or for the simple sake of saving something useful from going to waste. Its purpose is as philosophical as it is practical.

Rather than advocate full-time dirty dumpster rummaging, this page serves to suggest observation and consideration of what is needlessly wasted every day. Remember though. If you do choose to scavenge something, don't be surprised if you find yourself wanting to do it again. Once you get over the associated social stigma, it's actually quite fun and habit forming. Just remind youself that the shame is in the practice of waste, not the act of scavenging. Scavenging knows no socioeconomic boundaries.

Dumpster Diving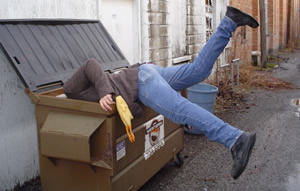 Below are a few tips to get you started. The primary idea is to be stealth enough not to be seen or confronted. If that happens often enough in the same place, the management may take measures to keep you out and you'll lose that resource.
Laws vary. Check legality in your area.
If you ask a business, they'll probably say "no" due to liability concerns.
If dumpster is next to a private residence, ask the owners. They'll probably say "yes".
Always wear leather gloves, solid shoes and drab clothing that won't draw attention.
Don't dive if there are "No Trespassing" signs.
Don't dive in the dark. You'll look suspicious.
Choose a time of day with the least traffic. Early weekend mornings are usually good.
Do a quick scan of the area. If there are people around, come back another time.

Rummaging not nesescary. I have pulled numerous items from overflowing dumpsters by simply paying attention. Some of the better things I have found include antique windows & doors; new but slightly damaged tables & chairs; a heavy duty handtruck; & two full suspension mountain bikes one of which was brand new with only one missing petal.

Be quiet and discreet yet fast. Look in and if there's something appealing, waste no time. Get it and move along. Deftness is key!
Unless going for big items, working solo is typically the quickest mode. It can be fun to have friends along though.
Take appropriate vehicle. It takes time to tie things to a roof rack and draws attention.
If asked what you are doing, politely say something to this effect: "I'm looking for box's. Do you happen to have any or know where I could get some?"
If asked to leave, be polite and oblige.
Found behind a store in Idaho, these perfectly good Florida oranges & California avocados & tomatoes had their final ride to the landfill rerouted to a needy family's dinner table. This food, along with peppers, asparagus, cherries & butter was in perfect condition but nearing its expiration date. From seed to market to a landfill on the other side of the continent...all while people struggle. Our society thinks nothing of this but shames those saving this food. Something to ponder....
"Whoa...looks like it's my lucky day.........." -Mark Farmer
Take responsibility. If you get hurt, deal with it yourself.
For additional information, visit Ran Prieur's Dumpster Diving FAQ.
Scrounging
Scrounging differs from dumpster diving in the fact that the item in question has not been thrown away but rather is laying in heaps amongst weeds or in other obvious locations which indicate non-use. Learning to spot and acquire these items for free, without coming across as a mooch, is a mix of art and psychology. Once learned though, the scrounger will find many people are happy to give. The giver sees it as a way to clean their place and help someone at the same time. However, others are tight-fisted packrats who'd rather watch something rot then part with it. Being able to identify these mulish folks can save you from some uncomfortable encounters. Squalid conditions should be your first clue.
What can be salvaged? Nearly everything from entire homes slated for demolition to downed trees for firewood. Also, many fruit trees in rural (I'm seeing this in metropolitan areas too) have been abandoned leaving the hardiest species thriving naturally and without chemicals. Hundreds of bushels of nourishing apricots and various other fruits go to waste every season in my part of the state. Sadly, our society in general has reached such a state of ignorance that it thinks nothing of the ramifications* involved when purchasing fruit imported from other states and countries. The overwhelming majority of this fruit is grown with polluting agricultural practices too.
*Food picked green (i.e. not yielding its full nutritional value), air pollution (transport emissions), depletion of fossil fuels (fuel, tires, road maintenance & truck maintenance), etc, etc.
With as few as 3 hrs/mo & a continuous eye, I have salvaged up to $6000/yr in building materials alone. Much of this has been old growth fir lumber, 80 yr old solid wood doors & windows. All this free for the taking.
Where can it be found? Anywhere, but older establishments and agricultural areas are the biggest producers. More specifically:
corners of fields and farm yards where materials have been piled for burning
old farm junkyards
abandoned homes
alleys
vacant lots
lots to be developed
farm implement suppliers. Think about it. A tractor axle can't be shipped in a cardboard box. It's delivered in a wooden (often hardwood) crate that is later discarded like Christmas wrapping paper. This wood can be used for things from shelving to firewood. Steel, which is used for the reinforcment of bigger crates, sees the same fate; the landfill.
Additionally:
Be on the constant look-out and take alternate routes to and from work.
Drive slower so you're less apt to miss something. You'll also save gas and be safer.
Avoid places with excessive junkyness, fences, "no tresspassing" signs or guard like dogs.
Drive courteously with no loud music.
Avoid looking like the stereotypical "scrounge" and dress nicely. Your odds of success will go up considerbly if you are are well groomed and wearing clean attire. Casual office type dress is well recieved.
When some thing of interest has been found, find the owner by knocking on doors.

take off sunglasses
make eye contact
be confident, not cocky
smile with friendly enthusiasm
hands in front

Get the word out! Tell friends, family, neighbors & coworkers about your finds. Before you know it, they'll be finding stuff for you. And some will even start scavenging for themselves. Enthusiasm begets enthusiasm!

When owner is found, concisely explain that you were passing by and "happened to notice ____" and ask if there are plans for it. I've had a few owners ask me if I wanted whatever it was I was interested in before I even had to ask! If not so lucky, and they tell you it's going to be burned or hauled to the dump, ask if you can salvage it. And use the term "salvage" rather than "have".
If the owner says "no", do not press. Graciously accept and leave.
If the owner says "yes", be extra appreciative and if possible, get the item then. If you can not pick up then, ask when you can and describe the vehicle you'll be driving so they know what to expect (people can get jumpy when an unfamiliar vehicle pulls in to their place, particularly rural folks not used to seeing a lot of traffic). Retrieve ASAP and be punctual.
Also, check out The Freecycle Network, a grassroots movement giving away nearly any thing imaginable. World wide, this diverse group has over 3,000 communities and 1.9 million members. Membership is free.